Hypnotic
a.k.a. Trance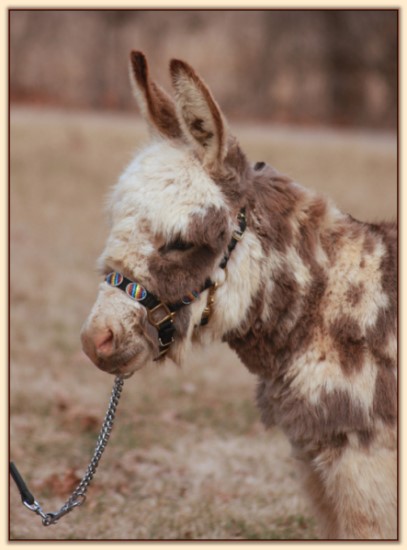 Photos above taken 2/14/15 ~ Trance's newborn photos below.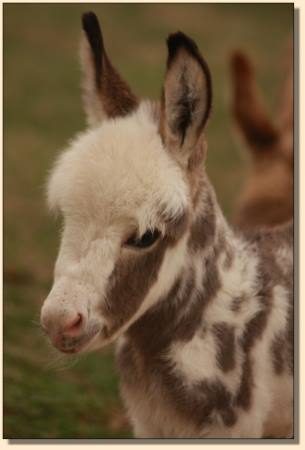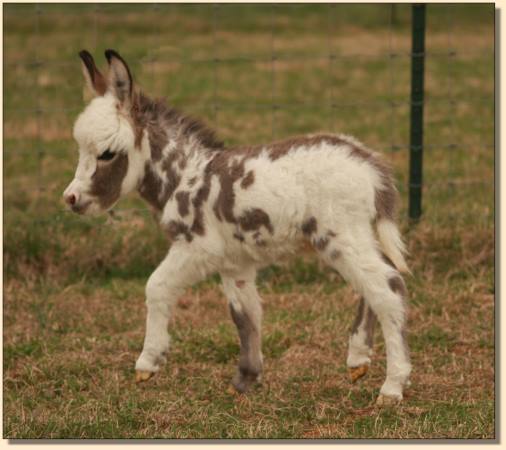 Dark Spotted Jack
DOB 3/31/14 @ 4:08 pm
Birth Height: 19½" ~ Birth Weight: 19.6 lbs.
Height on 2/14/15: 27¾"
MDR #64663
ACOSA #SA2842
Microchip ID#on file

Sire: HHAA Heza Brick House, 28" Dark Spotted
Grand Sire: Wit's End Badlands Marauder, 30½" Burgandy Black)
Grand Dam: HHAA Tease The Boys (Flirt), 32½" Dk Brown & White Spotted

Dam: Engman's Half Ass Acres Shimmy, 28¾" Gray
Grand Sire: Heiken's Ark Achilles, 27½" Gray
Grand Dam: Engman's Toodles, 31" Gray

Click here to see Trance's complete pedigree! Shimmy's second foal and Brick's first foal ever has finally arrived. My camera batteries died so I was unable to film the birth but the marestare video that was taken that day is posted below. This guy is going to be extra tiny!!





Congratulations to
Criadero La Florest
Vallavicencio - Columbia
South America!





New videos and photos taken 2/14/15.





Outside Video taken April 3rd, 2014.





Marestare's video compliments of WyCherie
Click here to return to our 'for sale' page


Click here to return to our 'Newborn' page

Click here to return to our 'Brood Jennets' page

...or just hit your 'back' button.


E-Mail HAA Miniature Donkey Farm

Last Updated:
Web Design by Dayle Haworth
Copyright © 1995-2020 ~ HAA Miniature Donkeys ~ All Rights Reserved