Joseph purchased a small donkey several months before the trip to Bethlehem so Mary could become accustomed to the animal. A great bond grew between the pair as Mary took care of the donkey and nightly covered him with her robe. However, at the start of the trip the donkey picked up a thorn in one of his front hooves which caused him to go lame. Every step was painful, but he knew how important it was for him to carry Mary carefully. With great patience and will power the donkey struggled along the trail carefully, being sure not to limp for fear it would make Mary uncomfortable. So careful he was that neither Mary nor Joseph knew the donkey was in great pain. Finally the trip ended in Bethlehem. The little donkey was able to lie down and sleep in the hay, covered with Mary's robe. Later that night an angel came and lifted the robe from his back and said "Among the beasts thou alone always shall be blessed, for in another's time of need you bore your cross of pain in silence, and all men shall know you for the greatness of your heart. Your children and your children's children forever more shall bear your mark of honor among the beasts." When Mary's robe was removed from the donkey the next morning, she and Joseph saw something that had never been seen there before: A cross on his back. And every small donkey has since borne the cross on his back as a reward for his work and faithfulness.
Good Friday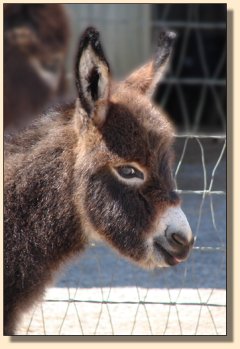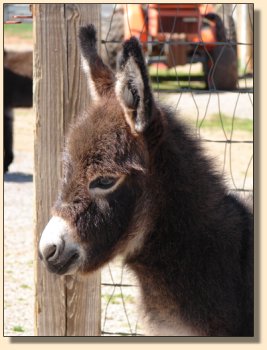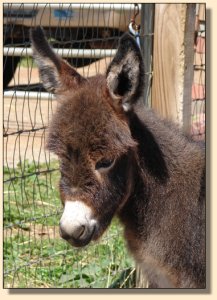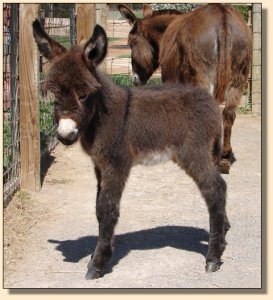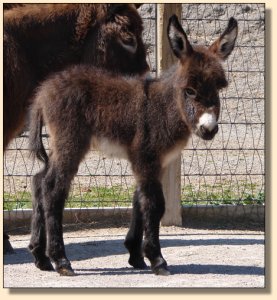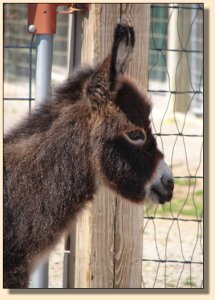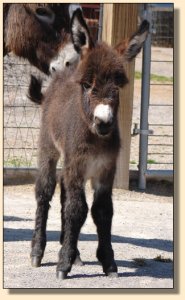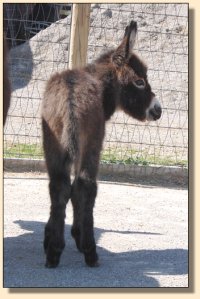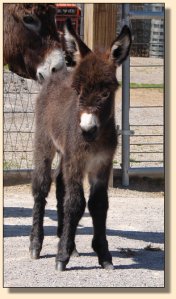 (Click photo to enlarge image)
Dark Brown Jack
DOB 3/21/08 @ 3am
Birth Height: 24¼" ~ Birth Weight: 34lbs.
MDR #53010
Microchip ID#144921352A

Sire: Windcrest Firefly, 30½" Dark Red
Grand Sire: MGF Fiftyfire, 31½" Dark Red
Grand Dam: Windcrest Pinkee, 32" Red

Dam: My World Holly, 34 5/8" Very Dark Brown
Grand Sire: LCR Valintino 75, (a.k.a. Red Baron), 34" Dark Red
Grand Dam: MW Heidi, 31" Very Dark Brown w/NLP


We were blessed with a big, beautiful bouncing boy on Good Friday. He is a beautiful shade of brown with the most gorgeous face. Thank you to Sandy Dorris for helping me take these photos of this pretty boy!





Click here to return to our 'For Sale' page

Click here to return to our 'Newborn' page

Click here to return to our 'Brood Jennets' page

...or just hit your 'back' button.


E-Mail HAA Miniature Donkey Farm

Last Updated: March 23, 2008
Web Design by Dayle Haworth
Copyright © 1995-2010 ~ HAA Miniature Donkeys ~ All Rights Reserved